Welcome to Woof Wednesday. Please meet some great dogs from CA, NY, PA and TX all in need of good, loving homes!
Beto is a Dachshund Chihuahua mix who is 1 year old and 15 lbs. We rescued Beto from a a home in L.A. where he was abandon along with another dog because the dogs owner is going to jail for a very long time. Beto has a balanced, sweet, loving, goofy, and affectionate personality. He may be a little shy when first experiencing a new environment, but give him a few moments, and he'll blossom right before your eyes! It won't be long before he's pawing your foot gently for more pets. He walks great on a leash and rides great on a car. He is not a barker Beto gets along wonderfully with other dogs, and given his size and age, he'll be able to transition easily into a home with feline and children as well. Please lets find him a loving home!
Beto - Bells Garden, CA
Miracle Dog Rescue
Bell Gardens, CA 90201
(323) 383-8883
Bruno is a Basset hound Coon hound mix who is 1 year old and 50 pounds. He is an adorable big boy with short legs. He is strong and playful but obedient dog. He is friendly with adults, children and all other dogs and ignore cats. He knows how to walks on a leash and rides great on cars. He is very well behaved inside the house. In yard, he likes to run and play with his buddies and toys but he does not destroy things. Bruno is not a barker but he is an excellent guard dog. He is 100% house trained too. He loves to go for short and long walks. He is an excellent dog companion and enjoy to play with children. His ideal home would be with a family who likes outside activities or who likes to take a daily walks. Please lets find him a great home!
Bruno - Bells Garden, CA
Miracle Dog Rescue
Bell Gardens, CA 90201
(323) 383-8883
__________________________________________________
Yara is a 1 year old Terrier mix. She is sitting in a shelter just hoping to find a family to call her own. Please lets find her a good home!
Yara - New York, NY
Best Friends Animal Society New York
New York City, NY 10011
Carole King is a Labrador Retrieve who is 7 years old and 50 lbs. This sweet girl sat in a shelter for over a year. When our rescue team met her, it was a no brainer we knew it was time to remove the chains and bail a sister out. Carol is very sweet with humans and currently working on her manners with other dogs. She loves the outdoors and has lots of energy. She has an adorable underbite and this hippie gal is simply badass to the bone. Please lets find her a loving home!
Carol King - Brooklyn, NY
Badass Animal Rescue
Brooklyn, NY 11249
___________________________________________________
Sophie is a Cocker Spaniel. She is senior sweetheart and staff favorite. She's nine years old with lots of love to give and is looking for a happy, patient home. Please lets find her a great home!
Sophie - Philadelphia, PA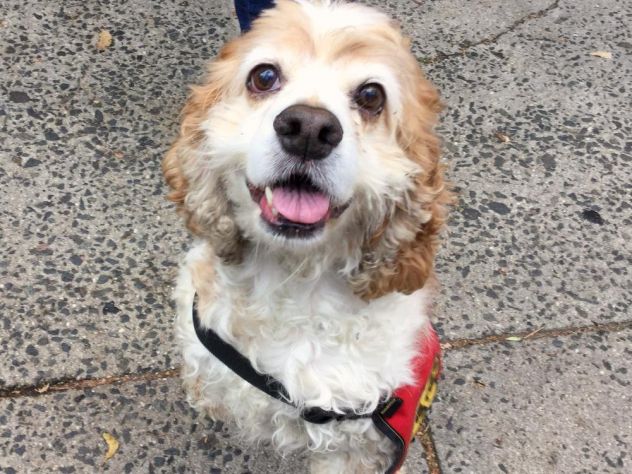 Morris Animal Animal Refuge
215-735-3256
1242 Lombard StreetPhiladelphia, PA 19147
____________________________________________________
Brewster is a Wheaten Terrier who is 3 years old. Brewster is back with his original foster mom. He had been adopted as a pup but unfortunately, circumstances forced major changes and this silly sweet boy came back. After just a few days, he broke out of his anxious state and began running and playing with the rest of the foster dogs in the home. He is a love and a goofy boy. Enjoys running and jumping in the yard with the rest of the pack. He is happy and wants to please. He does have a lot of energy, so needs a home with another dog to play with or a family who is active that will keep him going. He enjoys his quiet time on the sofa snuggling, as well. Please lets find him a good home!
Brewster Rio - Houston, TX
Adopt A Rescued Friend, Inc
P. O. Box 62736
Houston, TX 77205
(832) 539-4004
No paw left behind our mission!
{Please keep in mind a dog is lifetime commitment. They need attention, love and time just like we do. In addition, adding a pet to the family does cost money in the way of food, health care, training,etc. So before adopting make sure you are willing to make that kind of commitment and have the resources to do so.}
If you want to be a part of Woof Wednesdays email Ann Michele, Lauren or leave a comment. Or simply start posting about dogs in need of a home on your blog or facebook page