So the other day I wore dressy wide leg capris to work....the same ones I wore to work all last summer. The higher ups even commented last year about how they liked them. Our office branch rarely receives clients so as long as a client wasn't coming in we were allowed to wear them.
Well I don't know when the rules changes but they did. So when I and another coworker wore the capris we were told we should reserve them for Fridays only. And that's ok, although we should have been warned that capris were no longer acceptable forms of clothing beforehand. As I said I wore them all last season, so much so that this season I went out and bought more.
Which brings me to the question what is acceptable dress for the workplace? It definitely has changed over the years to a more casual professional style.
I know friends who work for very professional law firms who are allowed to wear the dressy capris. I wasn't even aware there were many offices that still had true dress attire requirements, as it seems most offices these days are business casual. If companies do prefer their employees wear certain type of clothing or refrain from wearing other types, than this should probably be in writing because it saves people from spending money on articles of clothing that can't be worn to the office.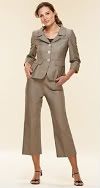 Back to the capris....capris cover more skin and leg than most skirts. If we are allowed to wear skirts above the knee, why not dressy capris? Depending on the capri, I think they are more polished and professional looking than a lot of skirts. And the photo above is a good example of the capri being referred too.
How is wearing capris any different than guys wearing polo shirts in the summer to work? Both are summer style clothes that most designers market to professionals as work attire.
Most people here rarely leave their desks....they spend most days sitting at their computers. So would it really hurt to wear professional looking capris?
Most companies within the corporate complex here allow capris, not to mention the marketing companies here who allow their employees to wear jeans. It really comes down to how clothes are put together. I've seen people who are dressed professional who look more sloppy and unprofessional than those people wearing nice jeans and a casual shirt. I just think it would be nice if companies gave employees more variety with regards to work place attire, especially in this economy where many people just don't have the money to spend on clothes.
As for those capris....you can be sure I will be wearing them come Fridays!